When I was nine years old, I knew I could fly. I just had to think of happy thoughts. That brilliant insight came from the movie Peter Pan. And, no. I didn't understand the difference between reality and fantasy.
A friend of mine lived in a house built into the side of a hill, and the front porch was about ten feet higher than the garage. Armed with my firm belief, I repeatedly jumped off the veranda, clinging to my happy thoughts as if they were helium balloons.
I never flew.
And my ankles were never the same.
This sums up my life. When I was a kid, I learned how to bark and believed I could talk to dogs and caught butterflies so they'd sit on my finger. On hot summer days, my favorite perch was on a neighbor's stone bear statue. There, I'd spin stories of fearsome dragons and dudes in distress. I never wanted to be the damsel in the tower, but the knight with the sword.
Later, when I grew up, I found a man who loved me even if I stuffed our house with collections of swords, tiny houses, trolls, and puppets. We raised five kids in this crazy home, but it wasn't until we had grandchildren that the stories I continued to make up transformed into books. I got hooked on it.
Now, my days are filled with writing, teaching, and trying to figure out how to climb trees without breaking my neck.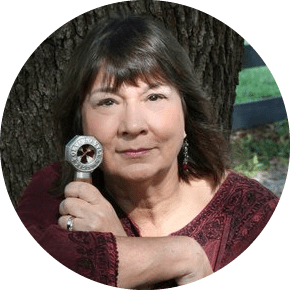 Author Sharon Keller Johnson